Even if you are grilling, you only need to use a cast iron pan to make grilled shrimp skewers without an oven or charcoal fan! Marinate the prawns in a variety of flavors, then bake on the Lodge's new grill. Finally, sprinkle with parsley to enhance the taste of shrimp.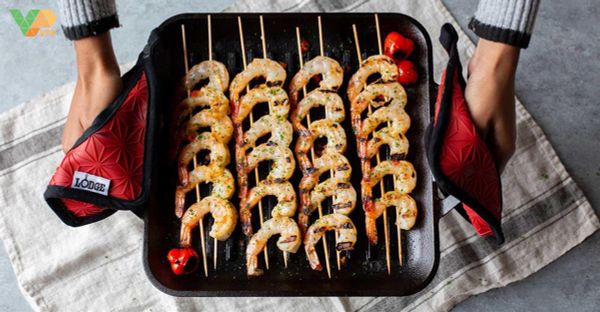 Prepare:
2kg of peeled medium sized shrimp
6 cloves of minced garlic
Peppadew peppers
2 tbsp olive oil
2 teaspoons of salt
Chopped parsley
1 cast iron pan Lodge
Perform:
Use absorbent paper to dry shrimp, mix garlic chili, olive oil and salt. Stir the prawns to infuse spices, cover and refrigerate for 30 minutes.
Get shrimp skewers into 6 sticks
Preheat cast iron pan over medium heat for 5 minutes. Start putting shrimp skewers in turn, in turn, every 2-3 minutes. Take the shrimp to a plate, sprinkle parsley and garnish.
VPP Trading