HOW TO MAKE QUESADILLAS WITH LODGE CAST IRON
A little cheese with corn tortillas and then baked on the fire is that you have yourself for the famous Mexican quesadillas. In restaurants or sidewalk stalls, in addition to cheese, quesadillas are also sandwiched with lots of fillings and spices such as pork sausages, mushrooms, garlic, black beans, chicken stew, ... and then fried or grilled on charcoal.
► Ingredients:
50 gr of black beans, drain and rinse
1 cup corn kernels
2 cloves garlic, minced
1 tbsp olive oil
Small onion cup, diced
1 tsp taco spice
1 cup shredded cheese
1 cup chopped cilantro
4 10-inch flour tortillas
Just enough salt and pepper
1 sliced avocado for garnish
Sour cream
1 cast iron pan 21cm Lodge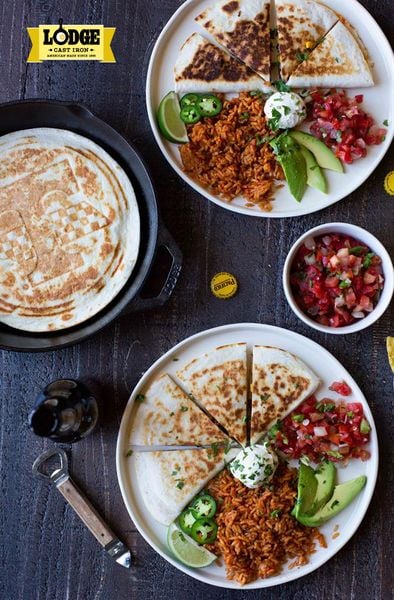 ►How to:
Heat 1 tablespoon of olive oil in a pan on medium heat for 4-5 minutes. During hot pan, mix black beans and corn kernels together.
Add the onions and garlic and sauté for 1-2 minutes. Add the mixture of beans and corn with taco spice, stir and cook for 1-2 minutes. Season with salt and pepper to taste.
Take the beans into 1 small cup, stir with chopped coriander and lemon juice.
Clean the pan with a paper towel and oil the pan. Turn the heat down to medium low. Place about ¼ cup of black bean mixture in the middle of tortilla cake, with 1 tbsp of cheese afterwards. Until the tortilla cake is filled to form a complete quesadilla.
Cook 2 quesadilla in a pan for 2-3 minutes until the tortilla is crispy and the cheese is melted. Finally, garnish with sour cream and butter.
VPP TRADING